Why Holistic Admissions
"Central to the concept of holistic application review is looking at everything a candidate has submitted, understanding unconscious biases and being aware of inequities in access to opportunities."

Mark Smith

Dean of the Graduate School and Senior Vice Provost for Academic Affairs at The University of Texas at Austin, and GRE Board Chair

"We must commit to holistic evaluation to get a true sense of who an applicant is and can become."

Janet Rutledge

Vice Provost and Dean of the Graduate School at the University of Maryland, Baltimore County (UMBC), and GRE Board Past Chair

"Despite the pressures of time and resource limitations, we owe each applicant dedicated attention to each component of the application process and a keen understanding of the nuances hidden within each application."

JoAnn Canales

Dean in Residence, Branch Alliance for Educator Diversity, and GRE Board member
Set customized goals and access practical resources to help you learn how to better implement a holistic admissions process at your institution in real time.
Supporting a Robust and Inclusive Graduate Admissions Process
Navigating Holistic Admissions
Get tips and resources for implementing holistic admissions at every stage of the process.
Preparing for the Admissions Process
Set goals and guiding principles. Structure processes to achieve your goals. Consider committee composition and training.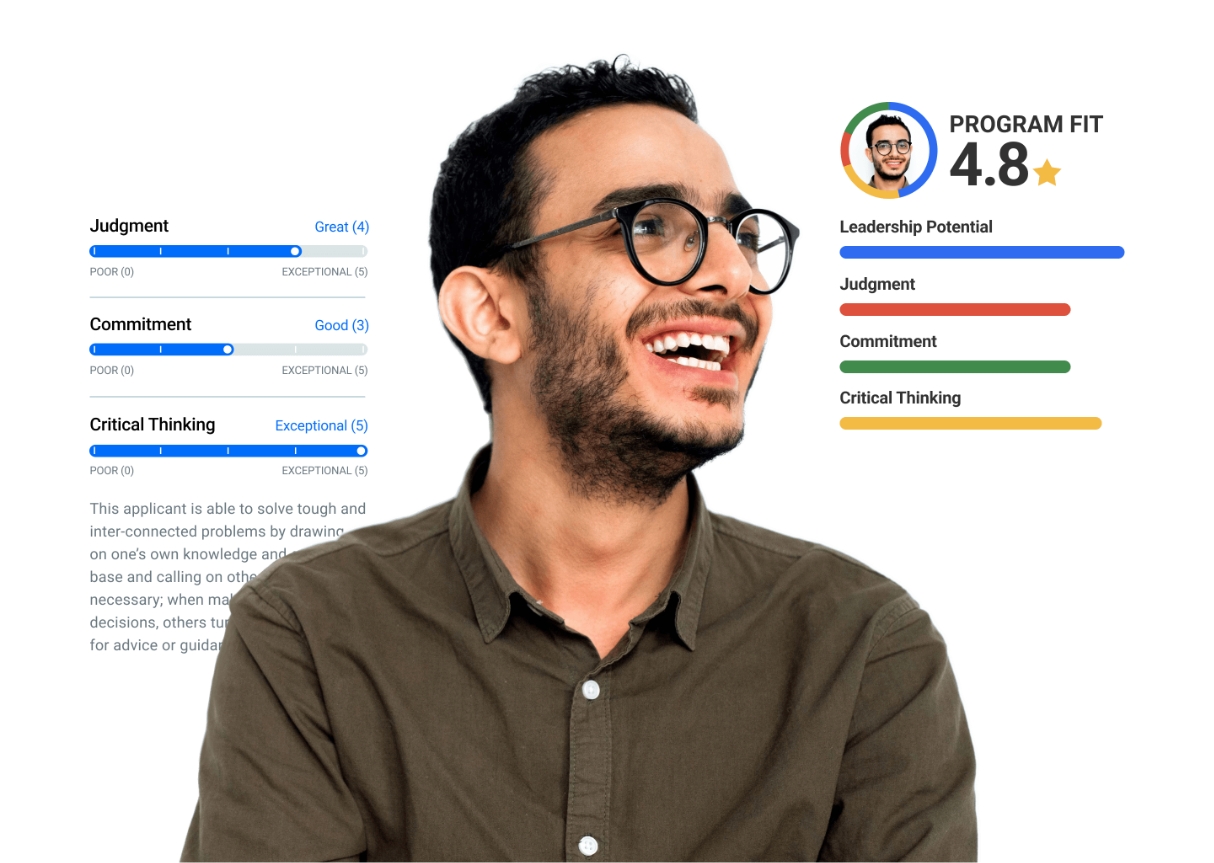 Implement Holistic
Admissions at Scale
Achieving a holistic admission process can be time and resource intensive. ETS and Kira Talent provide your program with solutions to future-proof your processes.

With Kira Talent, you can identify more of your best-fit applicants with asynchronous assessment and live interview technology customized to the way your team works.

It's Time for an Honest Conversation about Graduate Admissions
Some programs are considering changing the role of GRE® scores in their admissions process.
Explore FAQs and resources about the test's purpose and misconceptions around bias and diversity, which can help inform the conversations that may be happening on your campus or within your academic networks.
Jonathan Malesic, a former full-time faculty member at King's College, says improving graduate diversity and equity requires changing the culture around admissions.
Enhance Your Graduate Student Recruitment Campaigns
The GRE® Search Service helps you reach the right applicants by allowing you to filter and find qualified prospects that are actively looking for a program like yours. Explore how it can enhance your graduate student recruitment strategies.
Learn More
Continue Your Journey
Learn how you can benefit from holistic admissions practices — a method that looks at multiple sources of information to get the fullest picture of each applicant's potential.
Why Holistic Admissions?