Advance Your Outreach with the GRE® Search Service
The GRE Search Service helps you reach qualified prospects by providing access to a robust database of 500,000+ individuals who have demonstrated graduate-level readiness through their GRE test performance. This is one reason why North Carolina State University Admissions Manager Andrew Sleeth has been a power user for the past seven years. In this interview, he shares his favorite tips and insights.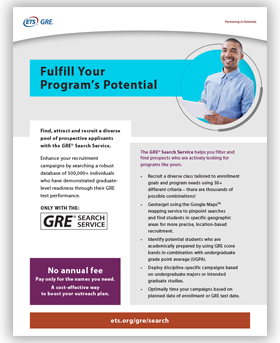 Find Your Future Applicants
Whether you want to reach out broadly or specifically segment your recruitment efforts, the GRE Search Service helps you filter and find prospects who are actively looking for a program like yours. Discover the benefits of using the GRE Search Service to enhance your graduate student recruitment strategies.
Have you explored…
Implementing Strategies
Access tools and resources to help strengthen graduate admissions practices for a more holistic review process, including considerations for goal setting, application review and engaging stakeholders.